GP Medical Devices (GPMD) is a solution-focused company that supplies hospitals with disposable medical products aimed at making patient's lives easier. The company was established in 2008 by Henning Hedegaard in Holstebro, Denmark.
Here at GMPD, we specialize in easy-to-use disposable solutions within the field of gastroenterology and digestive system disorders.
We aim to improve lives around the world by providing easy understandable up-to-date medical solutions. Our clients can use these solutions to help their patients and at the same time reduce their own daily workload. Read on to find out more about how GPMD can help.
GP Medical Devices' Purpose
GMPD collaborates with healthcare professionals from medical teams to develop innovative, simple and easy-to-use solutions. We use patient-focused knowledge to design our upcoming projects and improve existing products.
Collaborating with professionals and patients is essential to this process. We combine our expertise with the ideas of others. Together with clients, we design and deliver simple yet novel solutions which help improve people's quality of life.
We manufacture our kit solutions at several production sites on an ongoing basis, and we are quick to respond to any enquiries from clients.
Our products are easy to understand and have helped clients all around the world. The kits are always patented, CE marked, and medically approved. For the American market, the kit solutions are registered by the FDA.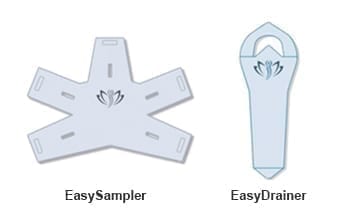 Why GP Medical Devices
GP Medical Devices is a small, agile company. We have many connections with collaborators, partners, and more.
These connections allow us to react to change in the industry faster. This also allows GPMD to have the resources to adapt to these changes quickly.
GPMD's team is knowledgeable but humble. If we don't have the answers that you need, we're willing to find them for you. Our team has access to connections that can help us find what you need.
Our company may be small, but we are mighty.
There are many benefits to being in this industry with a small business:
GPMD can focus on clients' needs better than larger organizations with more clients.
GPMD can interact with clients more often.
GPMD works harder to keep up with present innovation in the industry.
GPMD is closer to our partners.
As the GP Medical Devices team learns more, we build our product development knowledge. And our team learn as we go.
Plus, GPMD's team is highly knowledgeable about sales and production. So, we know the process inside and out.
GPMD's Medical Devices
GP Medical Devices has two main products: the EasySampler and the EasyDrainer. GPMD is mainly known for its disposable stool and urine collector which is the EasySampler.
Let's dive into learning more about GPMD's medical devices.
EasySampler
Stool may contain valuable information for identifying issues in the gastrointestinal system. Some patients may need to collect stool samples for examination.
To many patients, collecting a stool sample can be awkward. Patients are often provided with only a sample bag and they do not receive any instructions from their doctor on how to collect the sample.
We worked with various medical experts to develop a complete solution for this – often embarrassing – situation.
In 2008, Christian Erfurt-Hansen and Morten Sønderholm approached us with an idea for a stool collector. The problem these young entrepreneurs faced was that the only thing they had to work with for their prototype was the local newspaper Jyllands-Posten.
The first thing our company did was buy a commode and install it in the office. After that, we began cutting and pasting and testing, and the EasySampler was born.
The EasySampler is a series of medical devices that contain three disposable products (the EU and US versions and the Urine and watery stool collector). It allows users to collect stool and urine samples.
These products are handmade and made of special paper. All the user has to do is position the product on the toilet seat to properly collect the specimen. Then, the user uses the toilet as he/she normally would.
Special Coating on one side of the paper ensures that it can stay in place for 6-8 minutes after contact with stool/urine. This means that you can follow the user-friendly guide and collect the sample at your leisure.
Flushing the easily soluble paper down the toilet is a quick and easy process. It takes the paper only 60 seconds to begin to dissolve after it touches the water.
The special paper used to create the EasySampler has passed flushing and biodegradability tests that certify the reliability of all the models in the EasySampler series.
The EasySampler kit solutions are medically approved, and CE marked under In Vitro Diagnostic Medical Device Regulation 2017/743, class A.
EasySampler Overseas
It turned out that the EU model of the EasySampler was not appropriate for American preferences. After completing some research, we figured out what the problem was. A redesigned US version was created. This one was particularly suited just for toilets with high water levels.
In 2010, one of the world's leading researchers on intestinal diseases, Arne Røseth, visited one of the USA's leading suppliers of laboratory products. Here, he presented our product – the EasySampler. The American Company was thrilled with the new model. Today they are one of our biggest customers.
The American version of the EasySampler is registered at FDA.
EasyDrainer
The EasyDrainer is a medical device for those with ileostomies. It is a disposable sleeve that can help users empty their ileostomy bags.
Just like the EasySampler, the EasyDrainer is easy to use.
The sleeve prevents splashing as the user is draining the ileostomy. The sleeve also protects the user's clothes from splatter.
To use this product, you just have to put the top to your ostomy bag and let the bottom hang in the toilet. Then, you can empty the bag into the sleeve. The product will go into the sleeve and into the toilet.
This sleeve is also flushable. So, the user can easily dispose of the sleeve when they're done emptying their ostomy bag.
One of the best traits about the EasyDrainer is that it reduces the noise that comes with emptying the ostomy bag. Patients who suffer from ileostomies must drain their ostomy bag five to seven times a day. Often, this means that they must drain their bags outside of the home.
Luckily, the user can take the EasyDrainer with them. It's small, so you can hide it in your pocket or a bag. No one will even know that you have it.
Plus, since it's flushable, there will be no waste. So, there's no evidence that you were even there.
EasyDrainer is medically approved and CE-marked under Medical Devices Directive 93/42 EEC class 1.
This product is highly recommended for stoma patients.
Accessibility
Although our clients are mainly medical professionals, the end-users are the patients. At GP Medical Devices, we make certain that our clients have products that are simple to use.
By providing the patients with step-by-step detailed kit instructions, healthcare professionals can save time explaining the procedures to the patients. This method also increases the percentage of accurately collected samples for analysis at the laboratories.
Since 2014, we have been supplying these kits to the Departments of Routine Screenings in Denmark. These departments then dispatch kits to conduct intestinal cancer screenings. Since 2018, citizens between 50 and 74 years of age in Denmark can receive colon cancer screening kits every second year.
Special Solutions
We built our kit solutions on the knowledge and expertise of the medical professionals we work together with – and combines it with our own experience within the field of materials and production setup. We strive to bring our clients nothing but excellence.
We like to implement the use of customized special solutions.
It may be anything – from customized instructions to customizing a specific kit and developing brand new products to suit the needs of our clients. No tasks are too small, and none are too large.
GP Medical Devices Project Management
Nobody can be an expert in everything, but we team up with people who are experts within their own specialized fields and build on their knowledge to develop the best solutions. A client's concept for a medical device is always valued. We would be happy to take on the role of project manager for new ideas a client would like to bring forth.
Collaborating with our clients ensures that we collect important knowledge. This knowledge will lead us to develop products that are accessible and innovative.
GP medical devices will turn the client's idea into a final solution ready for the market. We can assist you in a variety of ways, such as customizing a kit or helping you find a specific solution to a problem.
Let's Work Together
GP Medical Devices is a company that prioritizes its clients. We are a small and active company which focus on close and long-lasting collaborations with our clients.
Our company's small size makes us very agile and quick to respond – and our extensive professional network ensures that we have access to various production facilities and specialized knowledge.
Feel free to get in touch with us. Let us know how we can help you with your next concept for a medical device. When it comes to developing easy-to-use and intuitive medical devices, collaboration is fundamental. If you would like to talk about a device concept, or request a custom solution, contact us to arrange a meeting. We at GP Medical Devices look forward to develop the solution optimal for your needs!